Here's a great deal from Coupon Mama Massachusetts reader Jenny:
The Harlem Globetrotters are bringing kid participation and fun to a whole new level when their 2013 "You Write the Rules" World Tour comes to the DCU Center in Worcester, MA on Sunday, March 17 at 7pm.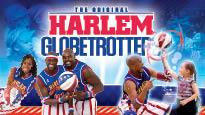 Even better, there is a great discount to save you $7 on tickets. Go here to purchase tickets and save $7 on select tickets when using promotional code HGMOM. Just enter the code in the "Promotions and special offers" box to get the discount.
Please note that the code is only valid on the $23 - $40 price levels. Restrictions apply.
Nobody puts fans first like the Globetrotters. Families, and especially kids, are at the heart of EVERYTHING they do. Every trick, every joke, every play is driven by their promise to amaze and entertain every family who comes to watch. This year, for the first time ever in the history of the game, the Globetrotters let fans decide the rules.
Happy Couponing!
-Coupon Mama Massachusetts