I wish I had known this last week BEFORE I paid nearly $40 for my oil change!
Get an oil change for only $13.50 at Sears (regular price $26.50).
Purchase this deal now
; offer expires 3/2/13!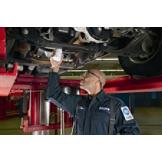 Fine Print:
Online only! Offer of $13.50 applies to basic oil change only. Oil Filter is not included and will be an additional cost in-store at the time of oil change, average on sale retail price with oil filter included is $16.99. Offer valid on up to 5 quarts of conventional oil featuring Valvoline. Addition oil, or oil other than Valvoline is available at additional cost. Most Vehicles. Not available in store or thru click to talk/chat. Price does not include State or local taxes. Extra $3 shop fee will be added at store except in CA, IL, MN and PR. Lubrication of the chassis is provided, if necessary. You can ask for the oil change light to be reset so that you get accurate readings. Tires are inflated with the right amount of air for smooth driving. The windshield washer and power steering fluid are topped off and brought to the optimum level. For your benefit, complementary checks of brake fluid level, lights, air filter, wiper blades, belts, tires, antifreeze and shocks/struts are performed. Sears also offers a vehicle-specific copy of the Maintenance Service Interval (MSI) so that you can maximize your vehicle's performance by keeping it well-maintained! Offer good through 02-Mar-2013
Happy Couponing!
-Coupon Mama Massachusetts