Today is Small Business Saturday.
I'm sure at this point you've read the
articles
or seen the
YouTube videos
that have gone viral emphasizing the ridiculousness of Black Friday (and in some states Black Thursday). It makes me sick to my stomach that we live in such a world of consumerism - is there
any tangible item
ever worth trampling someone for?
In any regard, today marks Small Business Saturday - a day we can forget about all of the craziness that went on yesterday at the "big box" stores and focus on boosting the economy by shopping locally at smaller, family-run businesses.
My friend and colleague,
Jennifer Gillooly Cahoon
, is a local artist out of Rhode Island. She is a visual artist who, right now, is primarily creating paintings, although she continues to dabble in assemblage. She is currently working on a collection called the Day of the Dead (DOTD) series, which she started a little more than a year ago. She sells originals, prints on photo paper, prints on canvas, mugs, necklace pendants and more. Please check out her
Etsy
store and consider picking up a piece or two for holiday gifts. I purchased two prints, one for myself and one as a gift for my husband for Christmas.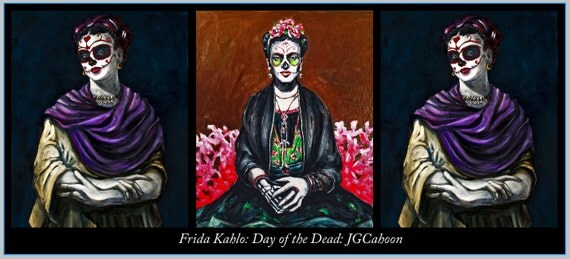 I own the print shown in the center. This image is taken from Jen Cahoon's etsy store and shows the images on a limited edition Frida Kahlo mug.
Photo taken from Jen Cahoon's Facebook page - taken on Nov. 21st at her reception at The Cheese Plate in Warren, RI.


See me sitting underneath the gorgeous Amy Winehouse?
Please consider shopping locally today, and as often as you can. Nothing beats the amazing customer service and friendliness you get a small business!
And remember - nothing is ever worth trampling someone for.
Happy Couponing!
-Coupon Mama Massachusetts